Life In The Mega-City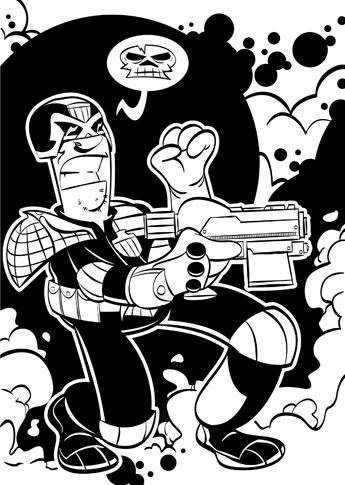 The world is going crazy these days. It seems you can't say anything without offending - or at the very least, mildly annoying someone! If you are one to care about what other's tend to think of you or have something to hide, I guess that bothers you. Personally my phylosophy is to pretty much ignore the haters and, in the immortal words of Joe Dirt, "Keep on Keepin' on".

But in a world full of technology and instant communication around the world, it seems easier than ever to silence people. Oh sure, when you're on the winning side or if you don't have a bullseye on your back then what do you care? Right? But rest assured, there is always someone somewhere that wants you silenced, you just don't know it yet.

Conspiracy theory craziness? Maybe. But what I do know is that relying on third parties to get your voice heard or your art seen is a recipe for disaster. From the time I put my first comic online in 1996 I have been telling newcomers to the web to make sure they have their own website. Own their own piece of the web - as much as you can anyway.

I know, unless you own your own service provider, you can't truly own your own piece of the web. But I also know that if we continue to rely solely on the likes of Facebook, Twitter, Youtube and Tumblr to provide the only window onto the world to our work, we are actively embracing a much smaller window than we could have on our own.

The world is going crazy these days and more and more tech companies are positioning themselves as Mega-City One Judges. They are proclaiming that they are the law and everyone on their service is subject to their judgement. Do these companies have the right to do that, sure. But we have the right - and the ability - to lessen their power in our lives by owning our own space on the web.

Sure it's harder to learn to code, make your own site and be accountiable to your own thing. But that's what freedom is. It's hard, but it's worth it!